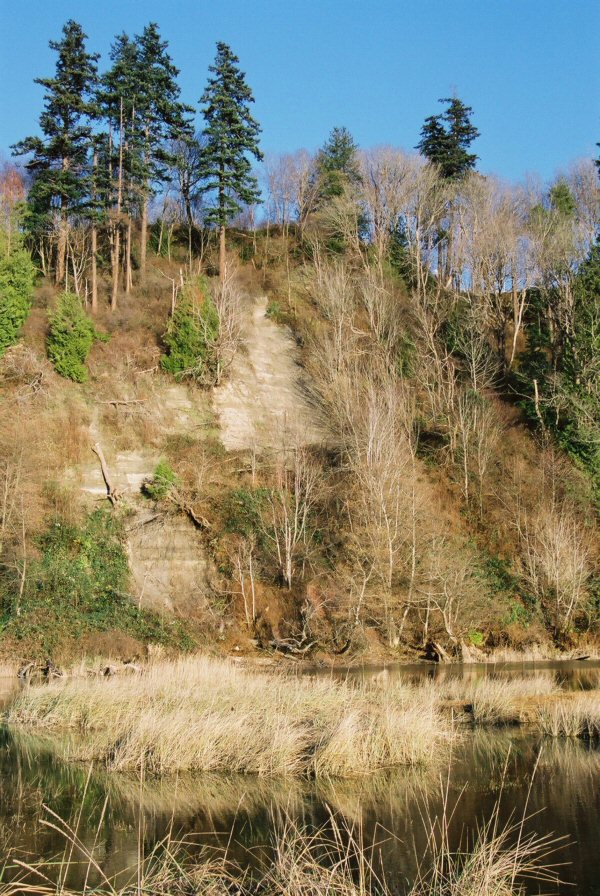 December 17, 2004
THIRD WRECK BEACH LANDSLIDE REACHES FOR THE TOP!!!
Origin of Slide Closer to Marine Residences Construction
December 9, 2004, a third landslide occurred on the cliff face below the UBC Marine Student Residences construction site. Much larger than the previous two slides of June 21 and November 7, this cliff failure is the third since UBC began construction activities for the Marine Student Residences in June . However, this third slide originated much closer than previous slides to the top of the cliff, and thus, also closer to the construction site.
Prior to UBC beginning construction of Phase 1 of the Residences in June 2004, there had been no documented slides for the past five years on this part of the cliff face! The three landslides that have occurred since construction began, demonstrate increasing frequency and magnitude.
The November landslide wiped out a considerable swath of cliff face vegetation.
The Wreck Beach Preservation Society and the Pacific Spirit Park Society remain concerned about permanent damage to the park including cliff stability, loss of viewscape from the beach, and impact on wildlife and birds posed by habitat loss and migration hazards.
Meanwhile, UBC continues construction with apparent disregard for the fragile bluffs and ecosystem.
PLEASE SEE ATTACHED PHOTO ABOVE
Contacts:

Judy Williams, Wreck Beach Preservation Society Chair;
Pacific Spirit Park Society Vice Chair 604-856-9598 / 604-308-633
James Loewen, Wreck Beach Preservation Society Vice Chair 604-689-9697
Ed Chessor, Pacific Spirit Park Society Chair 604-224-0967 / 604-822-9707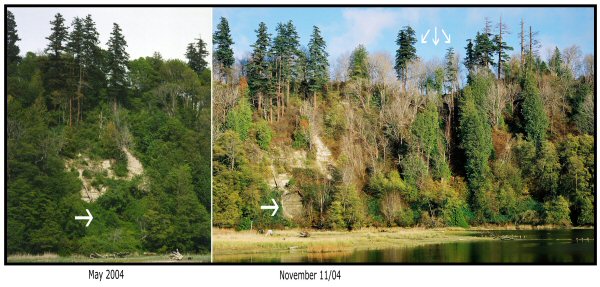 WAKE-UP CALL FROM MOTHER NATURE TO UBC!
MASSIVE NOVEMBER LANDSIDE BELOW UBC MARINE RESIDENCE TOWERS' SITE, SECOND SINCE JUNE 21, 2004, FUELS
URGENT PUBLIC LETTER - WRITING CAMPAIGN OPPOSING TOWERS-
News Release
Friday, November 12, 2004
UBC just doesn't get it. Mother Nature tried to warn UBC pundits with a minor slide June 21, 2004 soon after the initiation of Phase I of the Marine Towers Residence project. Given UBC's absolute disregard for a 21,000-person petition along with 432 letters from around the world, Mother Nature sent a second, "louder" warning this week through a massive cliff-face failure immediately below the Marine Residences site! What will UBC do next? Demand that GVRD destroy parkland through cliff-face armament to protect buildings that shouldn't be built there in the first place?!!
This madness must stop! Immediately.
UBC may not be paying attention to public sentiment, but the GVRD is! Collectively, the anti-tower signatories have generated over $4-million in goods and services for the economy. Public outcry is intensifying against the four, 20-storey towers planned to overlook internationally-renowned Wreck Beach. If people have not yet signed the petition, they can go to www.wreckbeach.org and click on the petition link.
It is time that UBC heeds all those who cherish Vancouverís legacy of unspoiled forested cliffs by the sea! It is time for all persons from Vancouver, the rest of B.C., across Canada and internationally, to let UBC know they will lose worldwide respect if the university persists with this insanity. We are asking persons to write from the heart! We want them to tell UBC and GVRD why this forested promontory should remain natural as well as what it means to them. If nothing else, persons can tell UBC and GVRD why they support the WBPS in keeping the area high-rise free.
We need the public's letters NOW, before Nov. 19th in time to make a difference BEFORE the Nov. 22 GVRD-UBC Joint Committee Meeting. The public is urged to attend, 5-7 p.m., second floor board room, 4330 Kingsway, Burnaby, B.C. Please send your letters to the e-mail and/or snail mail addresses listed at the end of this release with copies to the WBPS at: judyw@wreckbeach.org.
Not only will the view from the beach be destroyed forever, but the entire gateway to Vancouver will be changed from wilderness-like to a glass, steel and concrete row of behemoths growling their greetings to Vancouverís Lower Mainland.
Persons need only stress: (1) Cliff stability; (2) Stormwater control, and (3) Viewscapes being altered irrevocably from Wreck Beach to the cliff tops. GVRD officials have agreed that these three issues cause them to be concerned over the Towers project..
Backgrounder Information for Letter Writers:
Point Grey lies in Pacific Spirit Regional Park. Its cliffs and foreshore comprise only 7.8 km. of a 1500-hecatare park, but account for 57 percent of total park usage. Over 300, 000 visitors a year use only one of seven trails to this magical beach. In 2001, Wreck Beach Trail #6 visitors contributed over $61-million to the total economy in goods and services.
However, the economic boon to the area is not the only yardstick by which this spiritual retreat for Vancouverites and international visitors is measured. A recent study of the connection between wellness and manís ability to connect with nature has proven conclusively that urban dwellers in particular must find regeneration and renewal in nature as provided by our parks. That Wreck Beach is only 15 minutes from the heart of a thriving metropolis, makes it all the more precious for Vancouverites and those who travel from across Canada and from abroad to reconnect with nature as Nature intended .
What can anyone concerned about the breakneck speed and lack of adequate public consultaton UBC has invested in this towers project, do? !! Sign our petition, and PLEASEÖtake a moment to write to the GVRD Board, the BOG, the GVRD Park Committee, and the Joint Committee c/o of Paulette Vetleson, Corporate Secretary, 4330 Kingsway, Burnaby, B.C. V5H 4G8, and e-mail or snail mail to: Paulette.vetleson@gvrd.bc.ca and Kristian.Nichols@gvrd.bc.ca Please also send letters to UBCís Board of Governors, by mailing to Shelley Jackson at the above address or e-mailing her at Shelley.Jackson@gvrd.bc.ca Thank you!
SPEED IS OF ESSENCE!
PLEASE CALL EITHER JUDY AT (604)-856-9598/ Cell: 604-308-6336, OR JAMES AT (604)-689-9697 FOR DETAILS.