We're Here for a Good Time*
Come Hear the Music of the Beach
By Marilyn Hogan
Most of us live in highly-developed, modern surroundings. Wreck Beachers refer to our so-called civilization as "topside". Yes, we do live in a world full of excitement with its dizzying sights -- a world brimming over with sound -- all kinds of sound.
But go to the edge of the Point Grey promontory at Pacific Spirit Regional Park, and start down any one of the wonderful trails to Wreck Beach, and within moments you will discover that you are already in a world that unfolds before you, full of music all its own. And that's only the beginning.
Look high above you to see the Douglas Firs towering like monuments to the world below. The calling of the birds echoes between the trees like angel choirs in the vault of a leafy, green cathedral. Only part-way down the trail, and already its peacefulness is starting to transform your spirit, to expand your consciousness -- and you begin to relax.
Wind your way down Trail 6's 400+ steps to the bottom. And then you step through the looking glass to the other side. You are finally there. Paradise !
The sand is warm. The sea is dazzling like a million diamonds before you. Soon you hear even more parts of the symphony, as the waves gently lap the sand flats when the tide is low, or crash wildly in a thundering crescendo on shore as the tide rushes in on a breezy day. And before you know it, you are surrounded by music! Quite often, Canada geese will announce their arrival in a unified chorus as they treat guests to a beautifully choreographed fly-past.
Wander off towards the breakwater and listen to the songs of the lovely birds swooping around. You can sometimes hear Frank playing those soft, haunting violin strains near the shoreline. Others get together and jam quietly amongst themselves as they enjoy a little relaxation after class at the university. Or sit in the thick of the group and choose from so many musical options. There are many "regulars" who get together with guitars for a hootenanny-style jam. This is truly one of the main features that makes Wreck Beach so different -- it's an international-Naturist Mecca destination, clothing-optional beach centered around a stable, core community of numerous "regulars" as we call ourselves. People are usually welcome to join in to harmonize, tap a foot, or just to relax and take it all in.
Some folks are actually professional musicians who like to jam for fun. Brian B.'s musicians, Figital, are now known as far afield as Japan , and were the featured band for our Christmas 2005 Christmas fundraiser. Joe is a long-time guitarist, now with The Keepers, along with Rick, Mike, and Warren (or "Band of Beachers" as a little birdie told me).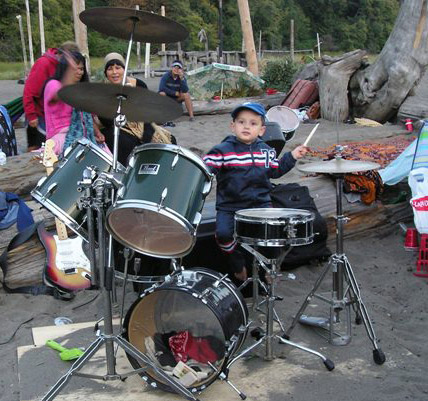 Whether professional entertainers off the beach or enthusiastic and talented amateurs who love music, it doesn't matter. When they converge, it all comes together right on the beach. It can be quite a treat to hear so many musicians for an exciting afternoon of almost non-stop tunes.
What makes it so fun and special? Most of us agree that Wreck Beach itself, as a magical world all its own, is most of the inspiration. Just look around. Enjoy the view of mountains in the distance, while the huge cliffside of wilderness-like vegetation behind you sets it apart as spectacular in itself, spellbinding, rejuvenating, and remarkable in its proximity to a major city.
But something else that pulls it all together here are the people themselves, with the energy and enthusiasm they bring to the experience. And so is the open, inviting, and accepting attitude integral to the naturist/nudist community. The only downside of all this is trying to figure out what music you want to enjoy for the day! Some of us like to wander around, finding lively conversation along the way, as we discover the mood we are in at any given moment and decide on what we want to hear.
Jazz? Classic rock? Folk songs? Original material? Reggae? They are all here somewhere, and some particularly talented folks play all of the above. Check out Alonzo, one of the most proficient and versatile guitarists around. His licks are getting serious airplay in Mexico. And Norm plays a mean electric guitar at Wreck Beach dances. They host a weekly Sunday jam at the Kingswood Pub in Richmond. Keyboards? Piano Dan gets a workout carrying his 40 kg keyboard up and down the trail, and keeps us all thoroughly entertained with his lovely and sensitive selections best geared to piano. Elton John fans always love his sets.
Sometimes Mike or Rick are seen in his vicinity with guitars, and seem to have a knack for playing just what everyone is in the mood for. And I don't think anyone can hear Little Pink Houses by Mellencamp anymore without thinking of Aaron, who loves to sing, often enthusiastically belting out a song or two. Another friend or two always seems to drop by to round out the picture.
Listen to Peter's guitar-playing renditions that lean toward a bluesy sound. His Bikini Cafe Wreck Beach fundraiser musical evenings were hosted at the Cottage Bistro on Main Street in Vancouver , and helped us raise funds for the beach. His band, The Hitmen, with Bill, Jeremy and Dave are regulars at those events, and so are a variety of dedicated entertainers and supporters.
At the beach, various personnel from a variety of groups often can be heard jamming together. After all, we're not just talking groups, but individuals too -- musicians are musicians -- and here's where it gets super-exciting. Dave, Andrew (of Lookinglass), Dale, Kim and Barry can often be heard together in some permutation or combination, covering everything from 60's pop and rock to obscure psychedelic stuff no one else does. When Gord brings his clarinet, or Anthony has his flute, or Vania with the maracas or Dee shakes a tambourine, or Frank drops by with his electric guitar, things really rev up. Ever heard of rock violin? Angela plays the rockinest violin you'll ever experience.
There's Mark with his mandolin, and you'll see the occasional different sort of instrument from time to time, including a lute, bass guitar, recorder, and brass instruments such as a mellow alto sax! Eric has a bar that is scraped with a stick -- a different instrument, that provides a gentle type of percussion. Then there's Jack Traystone with his unique 9-string guitar. By mid-summer at the beach, along with the sun, that's when the jammers really shine -- including guys like Jamie and Wayne from The Jammerz. It's quite special when Jamie brings his drum kit. And our beloved Klaus who died in December 2005, loved to drum with Jamie. Also, JC has an entire collection of African drums and when he brings his brothers down to treat us to a show, we all feel the pull of elemental earthy lifeblood pounding in our veins.
Shadow, Daryl and JC are only a few of the many other notable drummers and percussionists who also make their way to our musical Mecca , sometimes with a bunch of other musicians.
And if you're lucky, one or two really excellent singers will drop in at any time to one of these jams to offer the coolest harmonies you'll probably ever hear. "American Idol's" got nothing on some of them. But these are typical beachers who are happy just to sing for the fun of it, and are not necessarily interested in fame and fortune even though they probably could have all that. They'd rather make music for the love of it.
And since enthusiasm is much more important than talent to be part of this list, I might as well include myself in the number of people who love to sing -- which I can do as long as it's something in the key of G! But I am pretty strong on lyrics, and know a lot of songs, and love to join in on the fun. George, my partner, is a very solid singer, and knows even more songs than I do -- maybe three or four hundred -- and once in while treats us to his beautiful singin' and pickin'.
Like a home-style rock sound? Then listen to Brian's original compositions, including his famous tribute to Wreck Beach [anyone know the name of his theme song?]. Or enjoy Delaney's original melodies. How about Samosa Chris blowin' his soulful harmonica? Whenyou hear him play, you better understand the human condition and all the sorrow and passion we encounter in our lives. This man can play the blues like you've never ever heard before!! By now everyone is definitely having a reasonably good time! Terry likes to sing "a capella" Hank Williams numbers, or do a patriotic rendition of "O Canada" in French and English.
On St. Jean Baptiste Day, numerous French people love to sing traditional French songs celebrating their culture. And here and there throughout the summer, people sing in Spanish or whatever else they like. Wreck Beach is all about celebrating who you are.
As humans tend to be creatures of habit, many of us head down to our favourite spot, and usually find that people seem to gravitate to their same spots, so that can make it a little easier to figure out what kind of music is likely to be where. Some guys tend to be more nomadic, and you never know where they'll turn up. So it's never ever really quite the same from one day to the next. You don't know for sure who's going to be around, and that's partly what keeps it so exciting and new.
As with the tides, there is a constant ebb and flow of energy at Wreck. It just unfolds along with the vibes of the day. Visitors always add to the changing variety of songs and experiences. There's everything from Pink Floyd to Radiohead, Glen Campbell and The Clash all within a few steps of each other --but typically, far enough apart to do each song justice. The wealth of musical styles and preferences can all be found sooner or later here, and there is something to appeal to any number of musical tastes. Variety is all around you. But one thing is pretty certain: you'll have the time of your life at Wreck Beach.
Once, as I approached the trail to go topside -- I mean, back to town -- I said to one of the guitarists "Don't you hate to leave the jam?" He pointed out, "Well, that's one way to look at it." Then he added, "But I think of it like this: When I leave, that's when the party ends. When I return, that's when it starts again."
Well said. And so it is. See you when the sun shines!
* title of hit song by Vancouver pop band Trouper