The WBPS has just learned that warm gentle Klaus, always ready with a welcoming smile who deeply loved Wreck Beach is no longer with us on this mortal coil. His sister, Sylvia, sent an open letter to all Klaus's Wreck Beach friends via his website.
Her letter reads:
To all Klaus' Friends at Wreck Beach! I'm saddened to advise you that Klaus is no longer with us. I know he loved his days at the Beach and we will all miss him. Please say a prayer in his honor.
Klaus' sister, Sylvia and family

Dearest Klaus,
Now you know the secret of death.
But how shall you find it unless you seek it in the heart of life?
The owl whose night-bound eyes are blind unto the day cannot unveil the mystery of light.
If you would indeed behold the spirit of death, open your heart wide unto the body of life.
For life and death are one, even as the river and the sea are one.
In the depth of your hopes and desires lies your silent knowledge of the beyond;
And like seeds dreaming beneath the snow your heart dreams of spring.
Trust the dreams, for in them is hidden the gate to eternity.
For what is it to die but to stand naked in the wind and to melt into the sun?
And what is to cease breathing, but to free the breath from its restless tides,
that it may rise and expand and seek God unencumbered?
Only when you drink form the river of silence shall you indeed sing.
And when you have reached the mountain top, then you shall begin to climb.
And when the earth shall claim your limbs, then shall you truly dance.
Brief were your days among us, and briefer still the words you spoke.
But should your voice fade in our ears, and your love vanish in our memory,
Now with a richer heart and lips more yielding to the spirit will you speak?
You shall return with the tide.
It was but yesterday we met in a dream.
If in the twilight of memory we should meet once more, we shall speak again together and you shall sing to me a deeper song.
And if our hands should meet in another dream, we shall build another friendship in the sky.
Adapted from The PROPHET, by Kahlil Gibran
Klaus had a huge lion heart filled with golden sunshine. You are missed.
With love and gratitude, Trula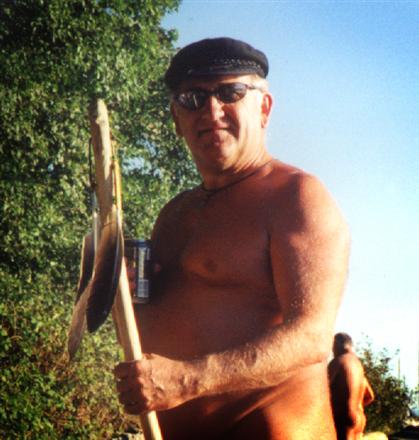 Photo by Trula Fountaine
KLAUS the House OSER
New Year's Day 2006 2:00 p.m.,
mid-Beach, Foot of Trail 6
Wreck Beach