Leisure Pursuits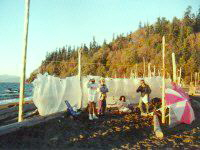 • From bocci ball, juggling, and beach croquet, volleyball and dicing, one can pick from a plethora of fun things to do. • One can play Majong, checkers, Scrabble, and a variety of board games to help spend time in the sun even more pleasantly.
• As well, one can build unofficial sand sculptures, jog, dance to the throb of the beach drums which somtime begin in the summer afternoons, join in the improv jam sessions, or merely just stretch out on the warm sands to listen to the ebb and flow of hot jazz, R&B, or primitive African rhythms.
• Wrapped in the serenity of the sun, dancers, drummers, musicians, and sun worshippers bond as the nightly sunset ritual draws them into its thrall!